Tensegrity Press Releases and Photos
FOR IMMEDIATE RELEASE

Tensegrity Solutions Completes Assembly
of Double-Layer Tensegrity Dome
SHIRLEY, MA -- Tensegrity Solutions completed assembly on May 30, 1998, of a double-layer tensegrity dome based on an eight-frequency subdivisioning of an octahedron. This project is part of an ongoing investigation into the feasibility of a technology for the design of space frames based on tensegrity principles.
It is hoped this technology, based on work by Kenneth Snelson, R. Buckminster Fuller and others, will allow the realization of domes of very large spans, potentially large enough to cover cities. In addition the technology is very material efficient and thus will be useful in situations where performance-per-pound is an important factor such as outer-space applications.
Structures using this technology will eventually be realized with metals and advanced materials. The test structure just completed is composed of 102 1 inch by 1 inch by four foot (25.4 mm by 25.4 mm by 1.22 m) hardwood stakes and 570 nylon-twine tendons of various lengths. The dome's inner base diameter is 13 feet 4 inches (4.06 meters). The dome's outer base diameter is 17 feet 4 inches (5.28 meters). The ceiling is 6 feet 10 inches (2.08 meters) tall at its peak. The roof is 7 feet 2 inches (2.18 meters) tall.
Background information on this implementation of tensegrity technology can be found on the Internet at http://www.trip.net/~bobwb/ts/prospect/prospect.htm. Photographs of the assembled structure can be found on the Internet at http://www.trip.net/~bobwb/ts/tenseg/v8dome/photos/index.htm.
Summary Advantages
Light Weight
Rigid
Equal-Length Struts
Simple Joints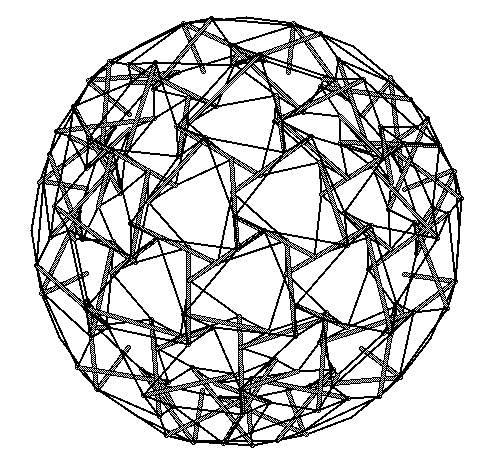 Top View of Double-Layer Tensegrity Dome

Side View of Double-Layer Tensegrity Dome
(back half sliced away)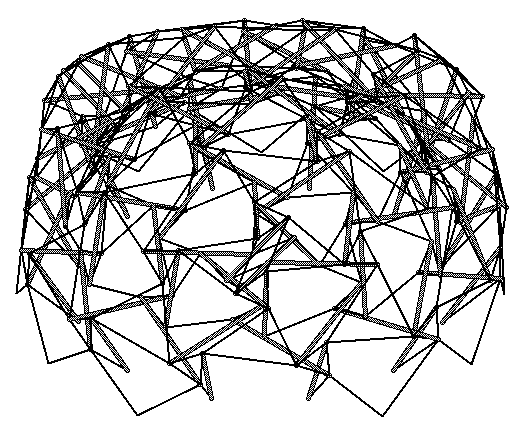 Isometric View of Double-Layer Tensegrity Dome

CONTACT:
Bob Burkhardt
Tensegrity Solutions
Box 426164
Cambridge, MA 02142-0021
USA
e-mail: bobwb@juno.com