---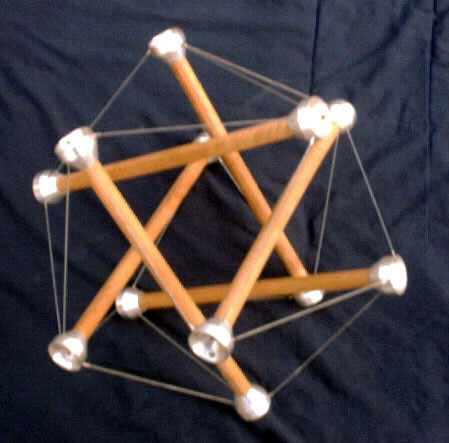 This is my attempt at making a tensegrity with tensile elements based on bicycle-spoke technology. I designed and built it while I was taking a machine-shop class at Minuteman Tech's evening program in 1982 or 1983. I was bicycling there from Arlington at the time and admired bicycle technology. Bicycle wheels also show up in Bucky's essays on tensegrity.
The shop scrap bin had a supply of aluminum cylinders. They weren't quite enough, and a classmate supplemented them with additional ones he got as samples from vendors to the place he worked for. Originally I planned to make it fairly large with three-to-six foot aluminum struts and wire of spoke thickness for the tendons threaded on each end for use with standard bicycle spoke nipples. Given my budget, that finally looked too expensive. I think it was also difficult finding the thickness of wire I wanted. Anyway, I finally scaled it back to one-foot wooden dowels for struts and truncated bicycle spokes for the tendons. I still had to get a die to thread the spokes on the truncated end.
The main task was making the hubs and I was picking aluminum scrap out of my clothing and sweeping up piles of it for quite awhile. Threading all the spokes was not an inconsiderable task. I also machined a rig so I could test how much tension the threads could stand when the spoke nipple had been secured to them. The guy who supplied the extra aluminum stock did the testing for me and it was well within the tolerances I was looking for.
I don't think I would develop this design further. The hubs are awkward and would be difficult to fabricate for a higher-frequency structure. It made an interesting machine-shop project though.
I've taken it apart, which is what motivated this essay. Scale is irrelevant as far as the hubs are concerned and sometime when I have more room it might be interesting to reassemble it according to my original vision. I should bevel those sharp 90 degree angles in places.
Here are some close-up views of the hubs in-situ:
Here are some close-up views of the hubs without the spokes attached:
---



---